VoIP Supply and Snom Americas continue our monthly webinar series exploring the latest product solutions for resellers and end users.
November's Webinar on Conference Phones is presented by Snom Americas Sarah Boucher, Inside Sales Manager, and Ian Mitchell, Product Manager. VoIP Supply Resellers and End Users benefit from an in-depth look at the Snom Conference Phone series, including the C520 wired conference phone, C620 wireless conference phone and C52-SP wireless expansion speakerphone.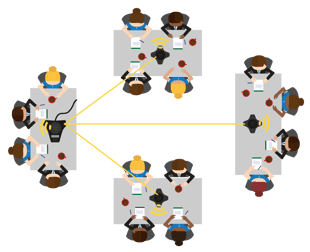 This flexible solution scales up or down to fit the board room, training or conference room and shared huddle space. The Snom Conference line expands to fit even the largest room setup, by adding C52-SP wireless expansion speakerphones to handle up to 27 active participants. With up to 150 ft range per expansion speakerphone, participants can spread out and be heard.
Watch the on-demand webinar below to learn about unique Snom Conference Phone features like two wireless DECT microphones, Bluetooth connectivity that supports both headset and mobile pairing on the C520, and built-in charging stations. If you're looking for reliable connectivity, superior HD sound quality and DECT range all in a conference phone that's half the price of the competition, then check out the Snom Conference series.
Snom Differentiation:
Market-first fully wireless SIP conference phone
Vertically integrated organization from manufacturing to distribution
Industry-leading 3 year warranty on desk, conference and mobility phones
North American product, sales and support teams
Authorized Partner Program with MAP enforcement
Watch the on-demand webinar below.