Whether you're preparing an install for a new customer or working with a client for 20 years, it's essential to consider the cost-benefit to upgrade their communication system with the latest devices. In the following case study, we'll explore how N-Mesh Technologies, a 3CX service provider, significantly reduces their customer's monthly service costs, increases network reliability, and improves productivity by upgrading their phone system.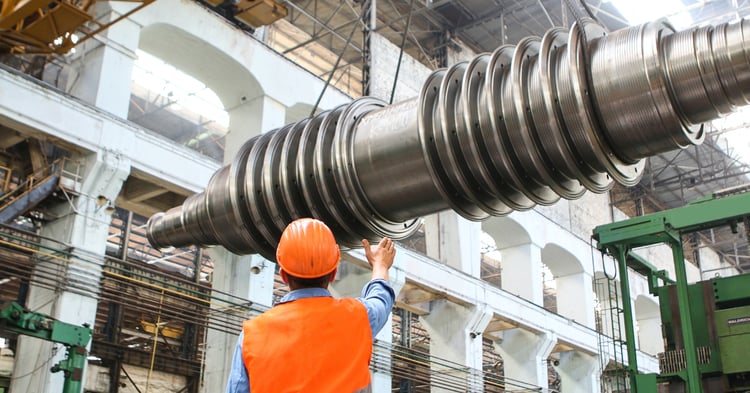 Outdated phone and internet system was costing the
customer upwards of $10,000 a month

The customer wanted to save money, increase reliability and find
a solution that could scale internationally

N-Mesh Technologies utilized 3CX Cloud PBX and Snom D785 phones to
to provide a scalable, reliable, and affordable phone system simultaneously
Background
Bud Nye, founder and CEO of N-Mesh Technologies, has worked with their multi-national manufacturing customer for more than 20 years managing and monitoring their network infrastructure and firewall services. Over the past couple of years, N-Mesh expanded its services to include Hosted IP due to the rapid growth in the sector.
Problem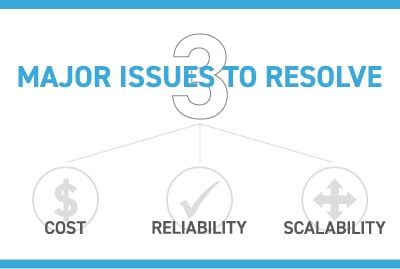 The customer, an international conglomerate in the manufacturing industry, found their phone and internet problems started at home in their West Virginia headquarters. Outdated Toshiba phones and an unreliable on-premise PBX were impacting productivity. However, the primary headache came from phone and internet bills averaging over $10K per month.
The company approached N-Mesh Technologies for help with their network issues and asked to solve three major problems: cost, reliability, and scalability. Depending on the new system's success, it could be deployed throughout the company's locations worldwide.
Solution
N-Mesh immediately realized the need to upgrade to a SIP and VoIP-enabled system. This would reduce monthly costs and increase system reliability. However, a significant hurdle stood in the way before they could utilize SIP or VoIP: a poor internet connection. Luckily, N-Mesh Technologies has a strong relationship with Comcast and secured a mile of new fiber optic cables installed directly to the customer site.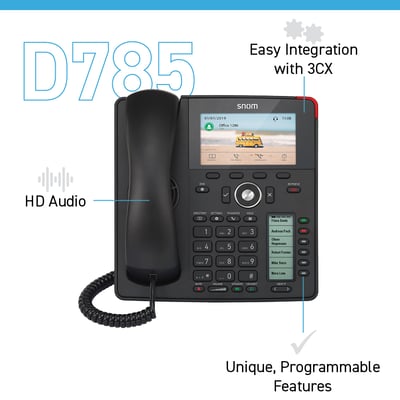 After enabling internet and SIP capabilities, they replaced the existing phones that lacked SIP functionality since this is a substantial cost savings technology. N-Mesh Technologies researched a lease program system at the customer's request but found it more cost-effective to buy the 140 phones outright. It was paramount the new devices be reliable and have the latest features to increase user productivity and reduce downtime. After testing products from H-Tech, Yealink, and Snom, the Snom D785 had the best call quality, unique programmable features (like LED BLF keys), and easy integration with 3CX. These benefits, paired with the reliability of Snom devices on the 3CX platform, were a winning combination for N-Mesh Technologies and the customer across the board.
---
"Snom takes care of their partners. [They're] easier to work with and
easier to deal with all around. The support has been great, the price
point is great, and overall it's a solid relationship."
-Bud Nye, Founder, and CEO, N-Mesh Technologies
---
Looking Ahead
One advantage of selecting Snom and 3CX together is the ability to scale internationally, combined with local support in major markets. Thanks to 3CX easy integration and cloud-hosted PBX, N-Mesh can provision phones before shipping them to the end-user. This makes any installation as easy as plugging in the new phone and an immediate connection to the surrounding network.
Another advantage of the Snom D785 is the competitive price for an executive-level phone. "The D7xx series has entry-level and mid-level device options, but at such a fair price point, it doesn't make sense to use anything below the D785 executive model," stated Mr. Nye. The customer could standardize its communication platform across the company, upgrade to SIP phones at every location and provide employees with advanced features and a more reliable network – at a cost well worth the time and investment.
Contact the Snom team at infoUSA@snom.com to learn more!