The Snom Americas team showcased the latest desktop, key line and conference phone solutions at the SkySwitch Vectors 2019 Conference in Orlando in October.
In the following podcast, Mike Harvey, Channel Account Manager at Snom speaks with Doug Green of Telecom Reseller to discuss the Snom market strategy for business phones and our growing relationship with Skyswitch Resellers. Click here to listen to the brief interview and keep reading for more information below.
Telecom Reseller: Podcast: Snom enters new decade with fresh ideas, attractive options for the desktop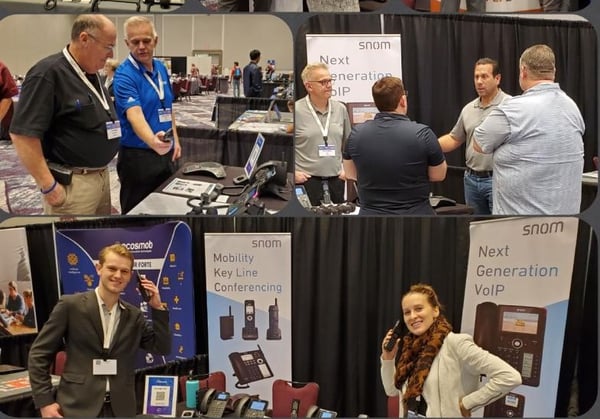 At SkySwitch Vectors, we received questions about our Key Line Emulation (KLE) DECT Mobility Solution. In the interview, Mike outlines the time-saving benefits of the KLE phone series, for both resellers and their customers. For example, Snom phones are shipped pre-provisioned from the distributor so the end user can plug it in and be ready to go. This helps resellers manage their time, reducing programming time on the back-end while still providing their customers with a flexible, mobile solution for small businesses.
For MSPs, another key benefit of Snom phones on the Skyswitch platform is the option to white label the phones and go to market with an all-in-one solution for customers. Even with white-label phones, you still get the VTech level of support with the three-year warranty and the high-quality design and technology of Snom.

Snom is the only manufacturer offering a true key-line emulation system. The M-KLE Series offers users the simplicity of a key line system but with today's latest technology and features included. Answering and transferring calls is easy; placing a call on hold and picking it up with a simple press of a button (no parking required!). Only the M100 Base Station requires configuration by a service provider and supports up to 10 cordless handsets or cordless desksets per base station. And with DECT 6.0 technology, employees are free to roam up to 500 feet while still enjoying HD sound quality.
The Snom Advantage also includes the following:
Industry-leading 3 year warranties with advanced replacement
North American-based sales and service support
Device-as-a-Service (DaaS) program for one flexible, low monthly cost
Full suite of products to fit customers from SMB to enterprise with desk phones, single-cell/multi-cell DECT solutions, mobility solutions, wireless conference phones and headsets
Learn more at snomamericas.com