If you, your company or your service provider are struggling to find the right mix of communication devices while transitioning your workforce to a work from home setup, Snom has put together the guide below to help. Here is a closer look at the Snom and VTech solutions that can easily transition to your home office for a seamless communication experience. And further down, we answer some common questions you might have during the transition.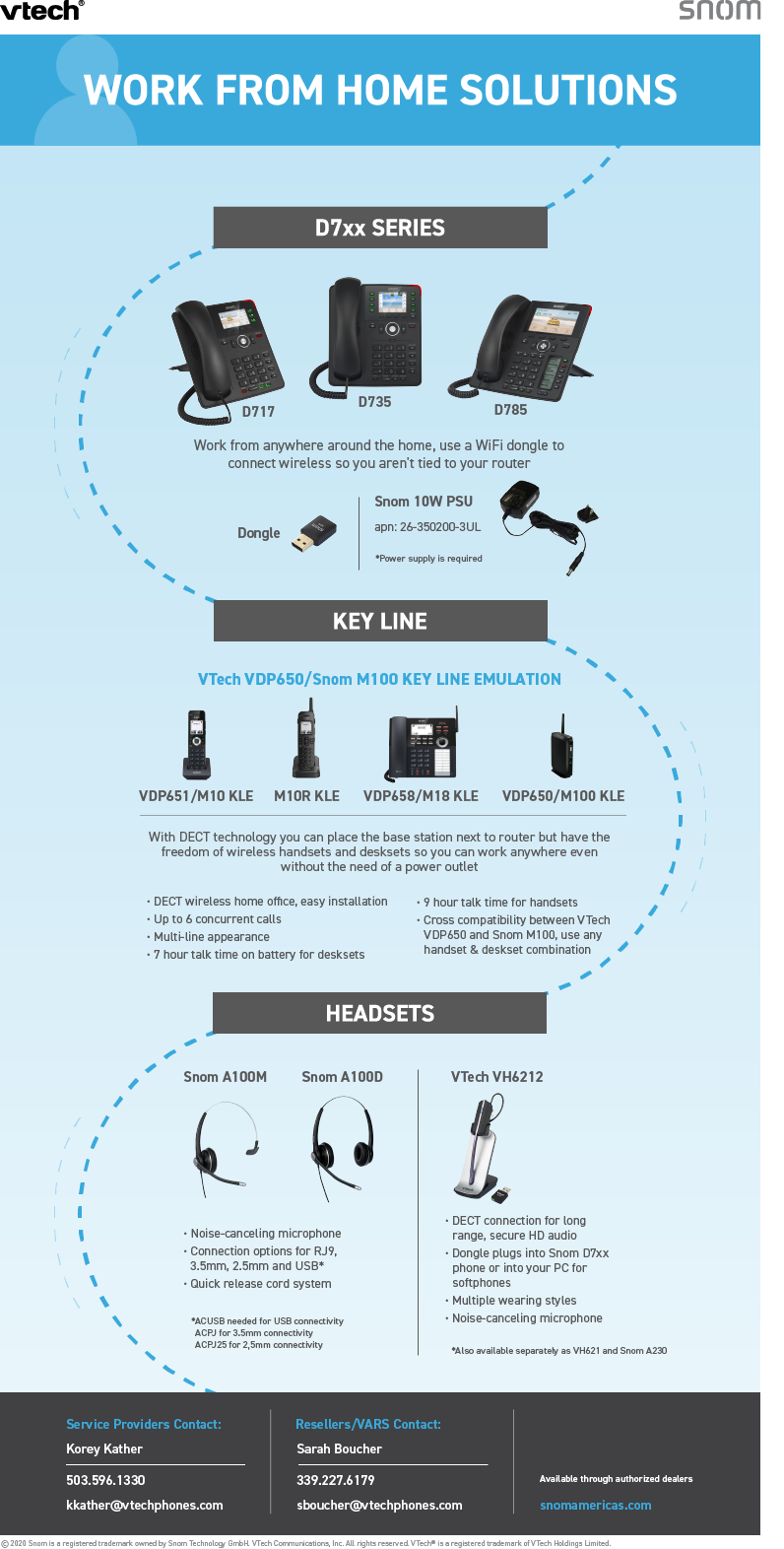 How can I make sure that all telephone address books and other settings are also available at home?
Depending on which type of telephone system is used in your company, either the contacts are synchronized with your Snom phone or you simply access all important data via the phone cloud. If the system is in the cloud, it becomes very easy: You take your phone home, connect it to your router using a LAN cable or use our A210 WLAN stick. The phone then connects to the cloud and you can make calls as if from the company - including use of address books, speed dials and all the functions that you have installed on your phone.
If your telephone system is a so-called "on premise", i.e. a company-installed IP telephone system, you only need one more intermediate step: Your administrator must then make the Snom telephone VPN-capable, ie he makes the appropriate settings on the web interface and plays one VPN patch on service.snom.com . Once this has been done, you also need to take your Snom phone with you, log in to your router / on the Internet using a LAN cable or A210 WLAN stick, and you're ready to go, just like at your work place.
Which headset do you recommend?
For those who want their hands free while talking on the phone and want to concentrate fully on the person they are talking to should take a closer look at Snom's DECT headsets. The problem with modern Bluetooth devices is their short range of around 5 to a maximum of 10 meters, although the quality of the acoustics can suffer far in advance. And what is more annoying than when an important call is overlaid by noise or even aborted. DECT headsets from Snom, on the other hand, impress with their long range and powerful features for efficient and ergonomic work in everyday business life.
The Snom A100D or Snom A100M are wired headsets designed for maximum comfort and performance . Their lightweight and ergonomic design means they can be worn comfortably all day. The wideband technology ensures high-definition sound and crystal-clear communication. The two speakers ensure perfect isolation in noisy environments.
The wireless VTech VH621-2 enables an even greater range of motion , with DECT 6.0 technology for long range, secure HD audio. The DECT dongle plus directly into your Snom D7xx series phone or your PC for softphones.
Can I buy the products above directly from your website?
Snom professional VoIP products are sold exclusively through accredited Snom partners. If you already work with one of our authorized distributors, you can place an order directly with them. Otherwise, fill out this contact us form and we'll help you get in touch with the right person to place an order.
Helpful Links:
https://service.snom.com/display/wiki/VPN+Support+of+Snom+Phones
https://service.snom.com/display/wiki/VPN+and+Snom
https://service.snom.com/display/wiki/VPN+-+Virtual+Private+Network
https://service.snom.com/display/wiki/Firmware+Update+Center